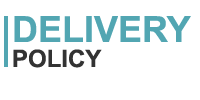 As the leading specialist bathroom retailer, with a focus on customer satisfaction, and right products we pride ourselves in our service.
We will contact you via Phone email and/or sms the day before your chosen delivery date to confirm your details.
You will be given the opportunity to change the delivery date.
On your delivery you will be asked to provide your one hour time slot for receiving goods.
If you order on a Friday or Saturday before 5pm, we deliver to you the following Monday or depending on availability. However, these dates will be confirmed instore.
At the point of delivery please check that the number of items delivered matches the number on the delivery order, and ensure to sign on the Transport copy once you've accepted your items. We recommend that you complete a full check of your items as soon as possible after delivery.
Please open each box and check that everything is as ordered and in good condition.
Once you've placed your order with us, you will receive a phone call within 1 working day to confirm a delivery date.

Delivery Options: *Please note that the delivery availably depends on your location in India. We cater to South India.
Delivery options, process and cost.

Pick up your product from our nearest store, remember to check stock availability while purchase. We recommend you to speak with our consultants for this service while shopping.
Cost: FREE on all orders.

Lead time and availability differs item to item, we suggest you to indicate to our consultant instore about your delivery dates for us to show you what is available in the stipulated time. Our range of delivery vehicles are monitored and tracking services will be provided to you 24 hours before the suggested delivery date. We provide delivery services 48-72 hours from the date of procurement.


Our associates will accompany all your items until door delivery anywhere around South India (Karnataka, Tamil Nadu, Andhra, Telengana, Goa, Kerala and nearby). All material damages in transit are borne by us. Certain documents and plan copies must be provided by you to our consultants for a smoother process.
Cost: Chargable as per actuals (weight & distance)

We can deliver on Sunday's too! But charges apply and you should arrange for unloaders on site.
Cost: Chargable as per actuals 2X the price (weight & distance)

Available only for Tiles & Surfaces, samples will be given for 48 hours from date of request.
Cost: Free home delivery on all sample orders.
International Delivery
+ Chhabria & Sons offers international delivery wherever possible.
+ Please talk to us about your requirements. Normally we will produce an estimate of delivery costs by your preferred method, or suggest other options.
+ We are sometimes limited by size, weight or insurance cover, but we will explore all possible alternatives with you first.

For more information, please contact our SupplyChain team:
Tel: 08046649000 or +919945769000
E-mail: billing@chabsons.com